Shop


Mineral Makeup Starter Kits

Mineral Foundation

Mineral Priming Powder

Mineral Finishing Powder


Mineral Glow Powder

Soft Silk Mineral Blush


Satin Pearls Eye Shadow

Multi-Dimensions Shadow

Plush Velvet Eye Shadow

Ultra Intensity Eyeliner


Gloss FX® Lip Glaze

Smooth Color Lip Cream

Color Care Lip Tint

Natural Care Lip Balm

Mineral Makeup Brushes

Primers & Sealants

Empty Cosmetic Jars

Gift Certificates


Worldwide Shipping
Mineral Foundation Guide
Need help discovering your perfect shade of J.Lynne mineral foundation? We're here to help! Use the guides below to help determine your ideal range of make-up foundation shades, and if you still need assistance, please contact us using the form at the bottom of this page. With these tips, you'll be well on your way to discovering your perfect shade of our natural looking makeup. J.Lynne mineral foundation will allow you to look your best and feel "purely beautiful, naturally you!"
NEW - take all of the guesswork out of foundation selection with our new mineral foundation starter kits! Simply choose the kit that best corresponds to your skintone, and you'll have a custom selection of our best-selling mineral foundations to mix, match and blend.
Foundation Shades
Choose J.Lynne Mineral Foundations in: Porcelain, Fair, and Ivory
Ideal for: Women with fair or very light skin tones who burn easily and do not tan.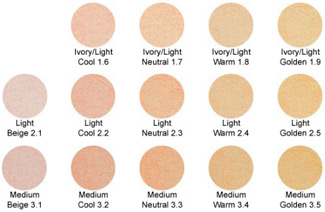 Choose J.Lynne Mineral Foundations in: Ivory/Light, Light and Medium
Ideal for: Women with light to medium-light skin tones. The majority of our customers fall into this range.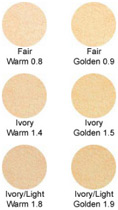 Choose J.Lynne Mineral Foundations in: Fair, Ivory, and Ivory/Light (Warm & Golden undertones)
Ideal for: Asian women with fair to light skin tones, and women with golden and warm-toned complexions.
Choose J.Lynne Mineral Foundations in: Medium and Tan
Ideal for: Women with ethnic, olive, or tanned skin tones that typically do not experience sunburn.
Choose J.Lynne Mineral Foundations in: Deep and Deeper
Ideal for: Women with caramel, mocha and deeply tanned skin tones.
Foundation Undertones
Beige
Beige Undertones are for complexions that do not contain any noticable pink, peach or golden tones. These foundations are most often used to neutralize other shades. Few women will wear Beige foundations on their own. Please note that our Beige shades also tend to run light.
Cool
Cool Undertones are ideal for women with noticable pink or red tones in their skin. If you have a cooler toned eye color (blue or green) and look best in colors like pure white, blue, purple, and silver, our Cool foundations will likely be your best match.
Neutral
Neutral Undertones have a balanced mix of beige, pink, peach and golden undertones. If you're unsure of which foundation undertone to choose, Neutral is a very good starting point. The majority of our customers choose Neutral as their preferred undertone.
Warm & Golden
Warm & Golden Undertones work best for women with noticable peach, golden and olive tones in their complexions. Women with warm eye colors (hazel or brown) and those who look best in ivory, red, brown and gold are more likely to prefer Warm and Golden foundations.
Need More Assistance in Choosing a Mineral Foundation Shade?
If you'd like more personalized help in determining your best J.Lynne mineral foundation shade, please contact us. Please be sure to include the foundation shades that are your best match in other cosmetic lines (mineral or non-mineral). The more information you're able to provide, the better we'll be able to assist you!